In EYFS, reading is the priority. In Reception, children develop a love of books and reading through high quality texts being read to them on a daily basis. These books are continually repeated to ensure children internalise the structure allowing them to become familiar with the building blocks of stories and of reading in general. Phonically, children get off to a quick start using the Read, Write inc. phonics programme delivered by highly trained staff. Alongside this, books are well matched to the phonics they have learnt. All this enables the children to quickly build up the fluency and confidence of their reading. Any child who is not progressing is identified early and extra phonics or reading provision is provided for them.
Reading for pleasure is promoted across school in a number of ways including regular visits to the school library, dedicated time for pupils and staff to read for enjoyment and discuss books, paired reading with other classes and visible reading areas in all classrooms. Along with other events across across the year like World Book Day dress up and holiday reading competitions.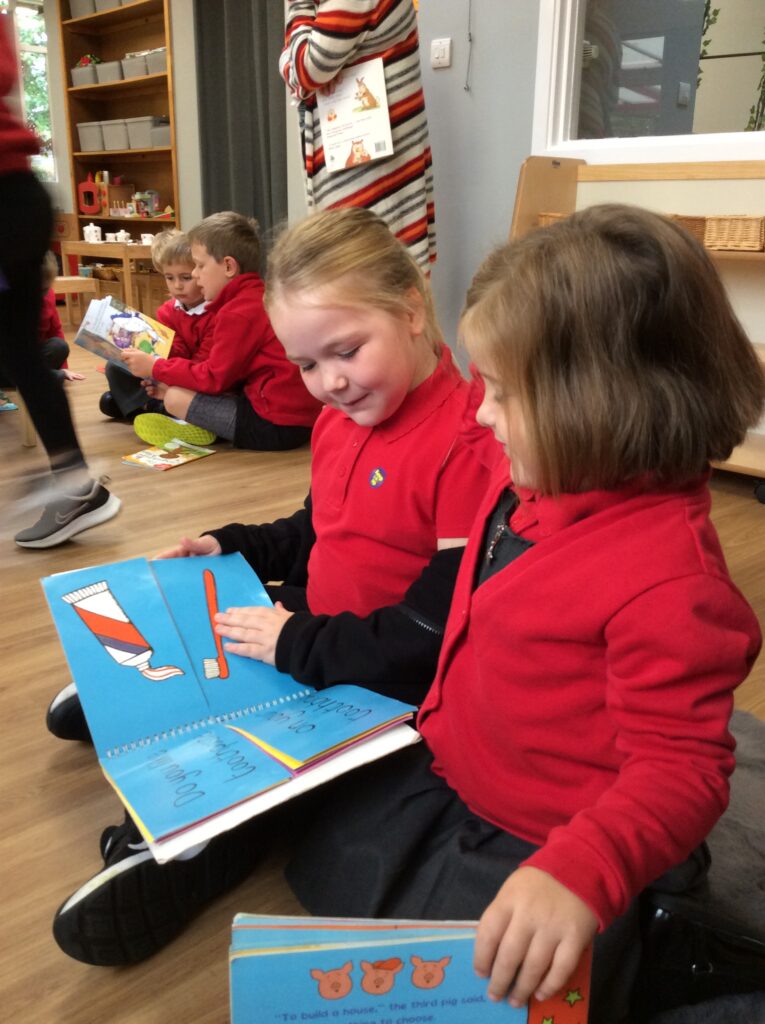 The focus of reading in Years 1 and 2 is to ensure that children can decode words accurately and develop a good standard of fluency. This is judged at 90 words per minute as detailed in the Year 2 assessment framework. The Read Write inc phonics programme is the principle method of achieving this alongside small guided reading groups.
Reading books to read at home (RWInc)
As part of the Read Write inc programme children bring home 2 books to read at home each week. (A paper book and a book bag book)
Paper book – this has been read 3 times at school, so the child bring it up home so that they can show off how good they are at reading it as many times as they want.
Book Bag Book – this has not been read at all by the child – ideally these should be read 3 times at home between Thursday when they bring the books home and Monday when they bring them back to school.
Read 1 – this is just for the child to concentrate on reading words, parents can help to sound out any words the child doesn't know. In the reading diary parents can just comment on if the child could read it.
Read 2 – this read should allow the child to read the book a little quicker with less of a need for them to sound out every word. In the diary parents can comment on how fluently the child read.
Read 3 – this allows parents and children to talk about the book during or after they have read. In the reading diary parents can comment on if the child can talk about the book/how much the child understood. Parents can get ideas for questions from the paper book the child brings home.
The more the child reads the books the more confidence, fluency and comprehension they develop.
Passport Books (Y2-Y6)
Once children are ready they will then become a free reader where they will be able to choose either a Passport books or books from home as their individual reading books. The Passport books are age appropriate, carefully chosen books which promote children reading a range of different books from a range of different authors. They are books the children might not ordinarily choose to read but endeavor to widen the children's reading experiences.
How to help at home with comprehension
Reading comprehension at primary school | Oxford Owl
In School
Reading sessions in Reception, Year 1 and where appropriate in Year 2 or 3 follow the Read Write Inc Phonics programme
Once children have been assessed at being at the required fluency level then they will take part in whole class guided reading sessions. This consists of a deep interrogation of the whole class text over a long period, which ensures that children gain a thorough understanding of the text as a whole.
The progression and sequence of the texts are outlined in the curriculum map and have been carefully planned and sequenced to ensure progression both within the year and across year groups.
Non-fiction is taught through the Talk4writing core non-fiction texts, which have been developed to ensure progression through the year groups. Alongside this, cross-curricular non-fiction shared reading, is an integral part of foundation subject lessons.
Reading sessions in Y2-Y6
include real books so children are exposed to a range of types of books and texts
allow opportunities for children to read for pleasure using the reading area
promote the comprehension strategies including retrieval, prediction, questioning, inference, summarising, clarifying, evaluating, making links, authorial intent
expose children to poetry and non-fiction books (often linked to the text the class are reading to further develop their understanding)
follow the sequence
| | |
| --- | --- |
| 1. | Vocabulary and/or deepening understanding of the text (linked NF text or poetry) |
| 2. | Decoding |
| 3. | Fluency |
| 4. | Taught focus comprehension skill |
| 5. | Apply comprehension skills |
| 6. | Love of reading |
Each classroom in Carlton has reading areas which:
have a variety of good quality books, which include a mixture of fiction and non-fiction, some relating to the current topic,
have books which are well displayed and accessible
are a defined area
are engaging,  age appropriate, comforting/safe place
give recommendations of books either from children or adults